Graham + Fisk's NFL Squares Giveaway
🏈Welcome to Graham + Fisk's weekly Monday Night Football Squares challenge!🏈
We'll be giving away weekly prizes for every MNF game. All you have to do is place a square for a chance to win a weekly prize!
---
How it works
Each row and column are assigned a number from 0 to 9, and pool members claim a square by putting their name in a box. A winner is determined based on the final score the Monday Night Football game.

Here is an example from Super Bowl XL between Seattle and Pittsburgh. The following is each teams score after each quarter:
​
 

1st

2nd

3rd

4th

SEA

3

3

10

10

PIT

0

7

14

21
The winner would be the member in the square where Seattle column with the #0 (the last digit in 10) intersects the Pittsburgh row with the #1 (the last digit in 21).
---
The rules
Fill out the form below, and you will receive a link to join our squares pool. You must use the same name for the form as well as our pool (so we can contact you if you are a winner!).
Once in our pool, simply make your squares pick for that week. Each pool member gets one square per week. Numbers will be randomized and revealed once the game starts!
If you are already signed up for SMS, you still will need to fill out the form below to receive the squares link.
Our team members will also be playing. In the case a Graham + Fisk team member wins, everyone in the pool for that week will receive a $10 discount code!
In the case not all squares are filled, we will pick a winner per-quarter (starting with the third quarter and going back-by-quarter.
Squares are filled out weekly on a per-game basis
---
The prizes
Week 1: Broncos vs. Seahawks
1x Mixed Case Graham + Fisk's Wine-In-A-Can
Week 2: Titans vs. Bills
2x Graham + Fisk's Summer Bubbles Boxes
Week 3: Cowboys vs. Giants
Week 4: Rams vs. 49ers
1x 12-pack Graham + Fisk's of your choice + branded dad hat
Week 5: Raiders vs. Chiefs
1x Graham + Fisk's Cocktail Kit of your choice
Week 6: Broncos vs. Chargers
2x Graham + Fisk's Hallowine Mixed Pack
WINNER: Gracie (Team Member)
Week 7: Bears vs. Patriots
$50 Graham + Fisk's Gift Card
Week 8: Bengals vs. Browns
1x 24-pack of Graham + Fisk's Cleveland Browns Edition (White with Bubbles)
WINNER: Tyler (Team Member)
Week 9: Ravens vs. Saints
1x Graham + Fisk's 12 Cans Of Christmas
Week 10: Commanders vs. Eagles
Week 13: Saints vs. Buccaneers
$50 Graham + Fisk's Gift Card
Week 14: Patriots vs. Cardinals
1x Mixed Case Graham + Fisk's Wine-In-A-Can
Week 15: Rams vs. Packers
2x 12 Cans of Christmas
Week 16: Chargers vs. Colts
1x 24-Pack (Your Choice)
Week 17: Bills vs. Bengals
$50 Gift Card to grahamandfisk.com
---
BY ENTERING YOUR PHONE NUMBER AND SUBMITTING THIS FORM, YOU CONSENT TO RECEIVE MARKETING TEXT MESSAGES (SUCH AS PROMOTION CODES AND CART REMINDERS) FROM GRAHAM + FISK'S AT THE NUMBER PROVIDED, INCLUDING MESSAGES SENT BY AUTODIALER. CONSENT IS NOT A CONDITION OF ANY PURCHASE. MESSAGE AND DATA RATES MAY APPLY. MESSAGE FREQUENCY VARIES. YOU CAN UNSUBSCRIBE AT ANY TIME BY REPLYING STOP OR CLICKING THE UNSUBSCRIBE LINK (WHERE AVAILABLE) IN ONE OF OUR MESSAGES. VIEW OUR TERMS OF SERVICE.
Prizes are subject to change. Graham + Fisk's has the right to change rules and any functioning of the squares league throughout the NFL season. Graham + Fisk's is not associated with the NFL.
** FOR PRIZES INCLUDING ALCOHOL - ALL WINNERS MUST BE OVER 21. IF YOU ARE IN A STATE THAT WE CANNOT SHIP WINE TO, WE WILL REACH OUT FOR SUPPLEMENTAL PRIZES.**
GRAHAM + FISK'S ORIGINS
Graham + Fisk's Wine-In-A-Can was founded by Graham & Fisk, childhood pals who met over 25 years ago at summer camp on the Great Lakes.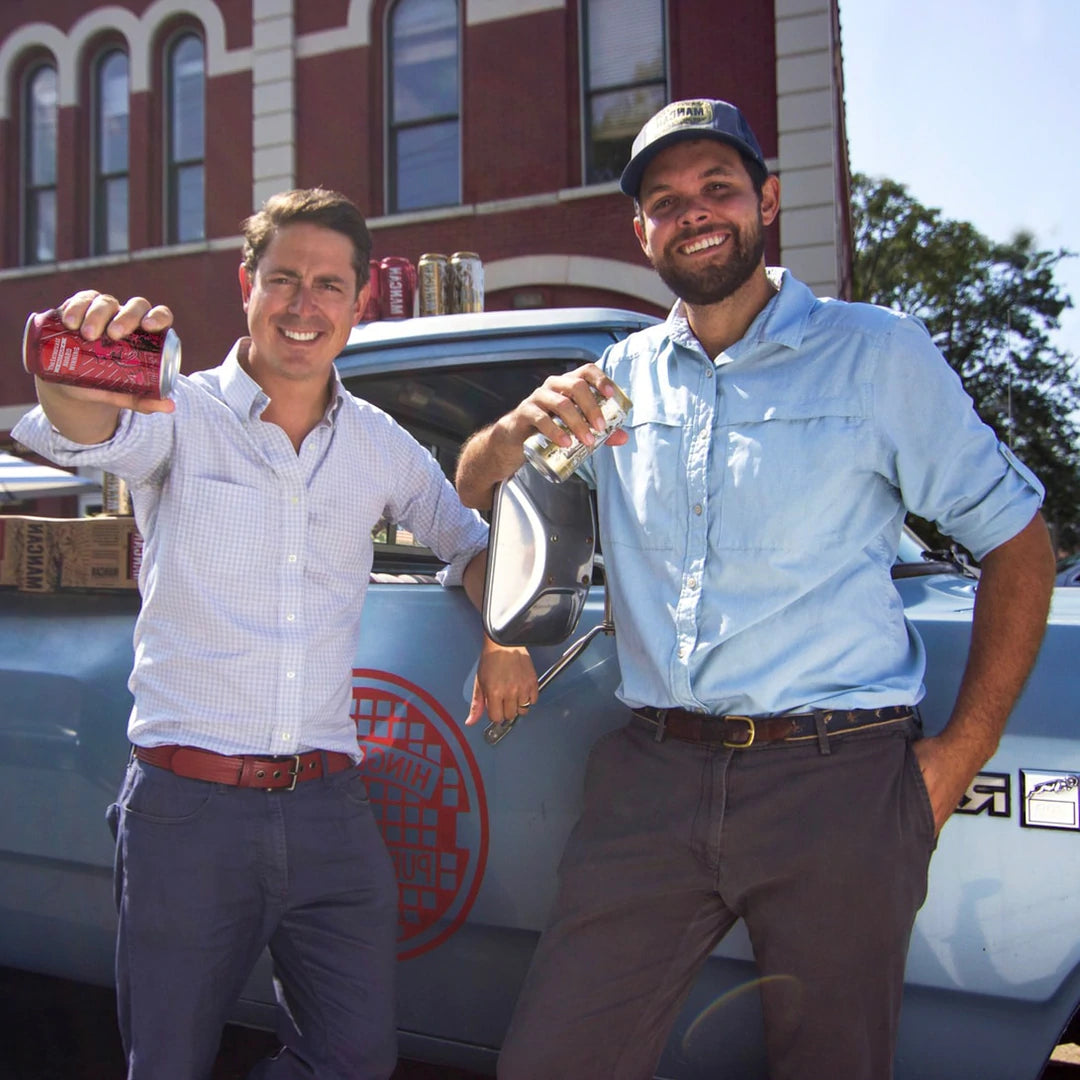 CHILDHOOD PALS
Graham + Fisk are childhood pals who met 25 years ago at Camp Roosevelt on the shores of Lake Erie. They went to high school together (and we have the cringeworthy homecoming pictures available upon request).

In Summer '01 they were roommates in DC, and in '07 they both lived in Aspen, CO. Graham was working for Plum TV and Fisk was a raft guide at Blazing Adventures, formerly Blazing Paddles - such a good name! 
Cut to Spring of 2014, Graham came to Fisk with the idea to put wine in cans. By September 2015, their 1st canned wine brand, MANCAN Wine, was hitting store shelves. 5 years and 8 Wine Enthusiast "Best Buy" awards later, they launched Graham + Fisk's Wine-In-A-Can using the same great wine, just in slightly smaller, super crushable cans!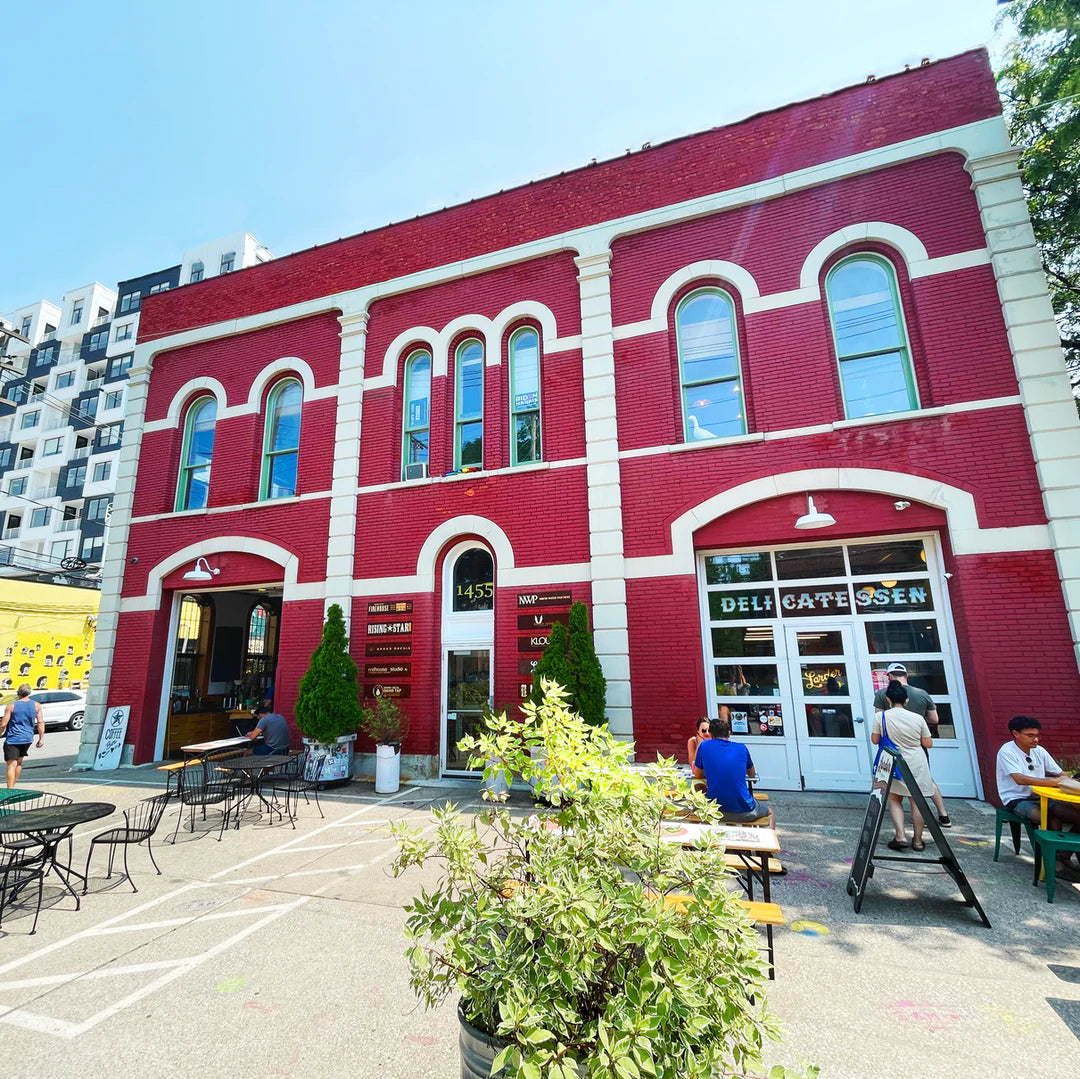 PIONEERS OF CANNED WINE
Graham + Fisk's is headquartered in an 1854 brick firehouse (that still has 3 poles) in Cleveland's Hingetown enclave. The historic Ohio City Firehouse is illustrated on each of our cans right under Gracey the dog.

When Graham + Fisk launched MANCAN Wine in 2015 as the 1st exclusive canned wine company, they did so while living out of a 1969 Corvair UltraVan in the Bay Area - going store to store, bar to bar selling the 1st cans onto corner store shelves. The UltraVan is featured on each of our cans and is an key part of the Graham + Fisk's story.